Here are some comments from people using the centre:-
To all staff at Macclesfield Cancer Help Centre. Thank you for all your help and kindness during the past 12 months. I don't think you realise how much you help during what can be a very difficult time and for some a very long time. Please keep up your happy positive attitude, nothing is worse than doom and gloom.
Thank you for all your help and kindness, it isn't always easy for people to express their feelings.
It has been as good chatting to you all as having my therapy, especially in those dark moments. Thank you.
Many, many thanks for your continued help and support.

Thank you very much for arranging the Art Therapy event last week. I found it very beneficial and very enjoyable. I went and bought a sketch pad and paints that afternoon.

I am sure that it helps with relaxation and I am sure all the others in the group felt the same. Please pass on my thanks to Pat – it was very much appreciated. Thank you.

To all the staff. Just to say many thanks for all your help and kindness on this journey we are on. Not one we have chosen, but one we have been given, made better by the people we meet, who show such kindness and are always there with words of encouragement and hope. So a very big thank you to one and all. With love.

The attendance at the group was great today , I enjoyed chatting to everyone there - catching up on how they were and getting tips to help me through my treatment/passing on advice I had, and also benefitting from the most marvellous facial massage treatment. I hadn't realised how much I needed the massage until I felt the immediate relaxation the massage provided me with in my facial muscles.

The group is invaluable for me as it makes the different complementary treatments so accessible. I find it reassuring that the treatment truly compliments my chemo.

I missed attending the group for 2 successive weeks as a result chemo and the Queens Jubilee. The result was I bottled up my tension and ended up getting a locked jaw that required a hospital visit to assess how to release it. I firmly believe that my jaw locked because I have not been able to fully relax and release the tension that builds up with me going through treatment, and in addition the stress generated through having 2 of my 3 daughters taking GCSE's and A levels.

I really would like to thank everyone who makes the group happen - please pass on my email if you can.

I will not be there next week as I have chemo but assure you I will be there for my Look Good Feel Better session, as I am really looking forward to it.

Just a little extra to show my appreciation for all the volunteers who improve our lives so much.

You wouldn't believe what has happened in the last few weeks. I have been head hunted and am now working for ---- in Macclesfield. The hours I am now working cover Monday-Thursday, which means I will not be able to join you on a Tuesday, something I am feeling very sad about as you have been so supportive and have completely changed the way I look at living with cancer. Thank you, you have taught me to be so optimistic. The plus side means that I now have my weekends free to visit my sister with my husband so that we can both support my sister and brother in law.

Many thanks for your support. You supported me when I was still in the 1st stages of shock at my sisters diagnosis and when I was having trouble coming to terms with it. I realise things can't change but at least we can still enjoy life. If there is anything I can do to support you in the background I will be delighted to help.
We have a picture taken after Karen Whitaker's 'Songs in the Chapel' event in July:-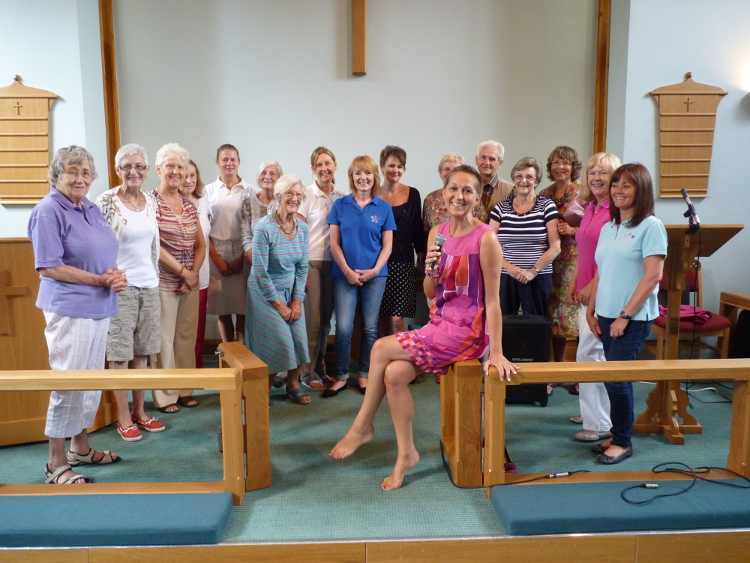 "How fortunate we are to have such talent and generosity in our midst. Karen Whittaker sang a number of songs to an audience of 25 clients, staff and visitors. She even got us to sing along. Lots of smiles and laughter as the picture shows. Thank you so much Karen."
We have several pictures from the Jewelery Workshop in June:-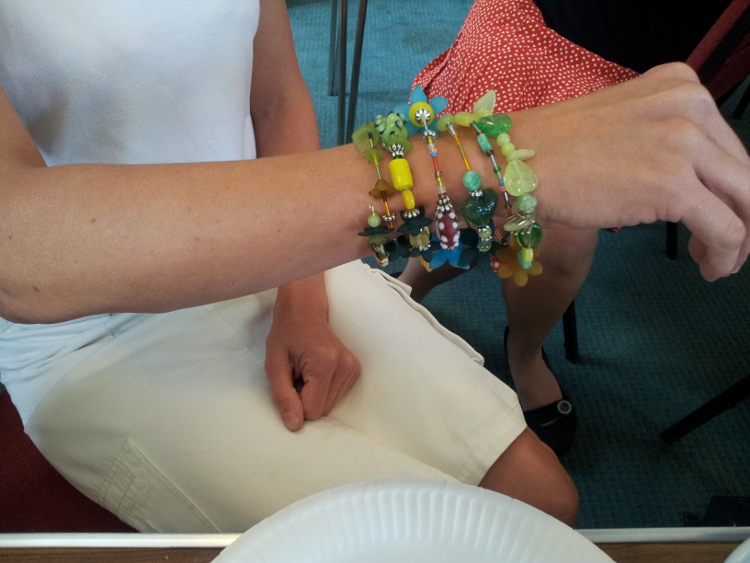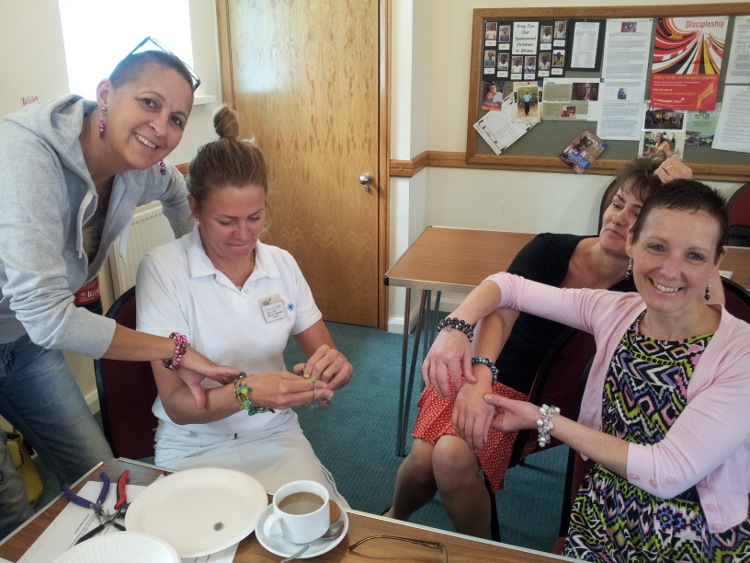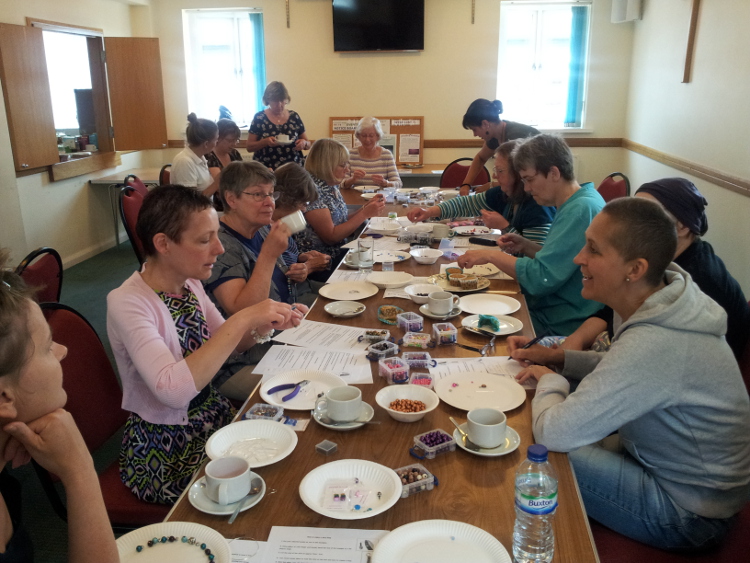 I always feel positive when I go home from here. It doesn't matter how negative I am when I arrive my spirits feel lifted when I leave.
Thank you for being so welcoming and warm. You give me something to look forward to.
This place has helped my confidence and now I can meet people. Everyone is so friendly and helpful.
A truly wonderful place to come for treatments, friendships, love and happiness.
I look forward to Tuesdays every week. When I am feeling bad it is so wonderful to be here. I like the informality of it.
Just wanted to say I've not been down to the group for a while as I was ill over Christmas and New Year and then I went on holiday and now I'm back at work. Didn't want you all to think I had forgotten about you all. I'm not going to get to see you now I'm back at work but I wanted the Team and everyone else who has helped and supported and just been there for me through my journey, how much I appreciated it and how grateful I am. If you could pass on my sentiments and thanks I would appreciate it. Thank you for your support. Miss you and if I can come down to see you all I will.
It all runs fantastically well. I love the personal touch to booking at the desk, flexibility to drop-in and fit in. Therapies are brilliant everyone is caring and professional. I would like to see more guest speakers but really it is a wonderful supportive group and I thank you all.
I have been coming to MCHC for approx. 12 months. I can sincerely say I have rec'd totally unconditional love and friendship. What you all do is wonderful. I cannot think how I would improve or change it. Many Many thanks.
Consider self-booking for appointments and therapies. More guest speakers.
Everything is wonderful beyond perfect. More beauty talks and maybe a fashion talk.